How to pack your holiday (only) in hand luggage
Depending on the kind of expedition we plan, we should approach our luggage in a different way. If we are "ordinary" tourists and we plan to just explore the country and
relax on the beach
we should take first of all: clothing for several types of weather - sun, rain and cold, sun creams, glasses and headgear, insecticides, first aid kit with basic medicines, especially for diarrhoea, bites and sunburn, camera and/or camera and a comfortable backpack and a handy sachet for documents and money. Such a set should guarantee us a pleasant rest without unpleasant surprises.
The situation is different when we go to
Chile for a trekking trip
, in which case our equipment should contain much more items. The most needed are: goretex jacket, trekking sticks, sleeping bag, trekking trousers (preferably with detachable legs), hat (or balaclava), gloves, warm fleece, thermoactive shirts, thick socks and a quick-drying towel.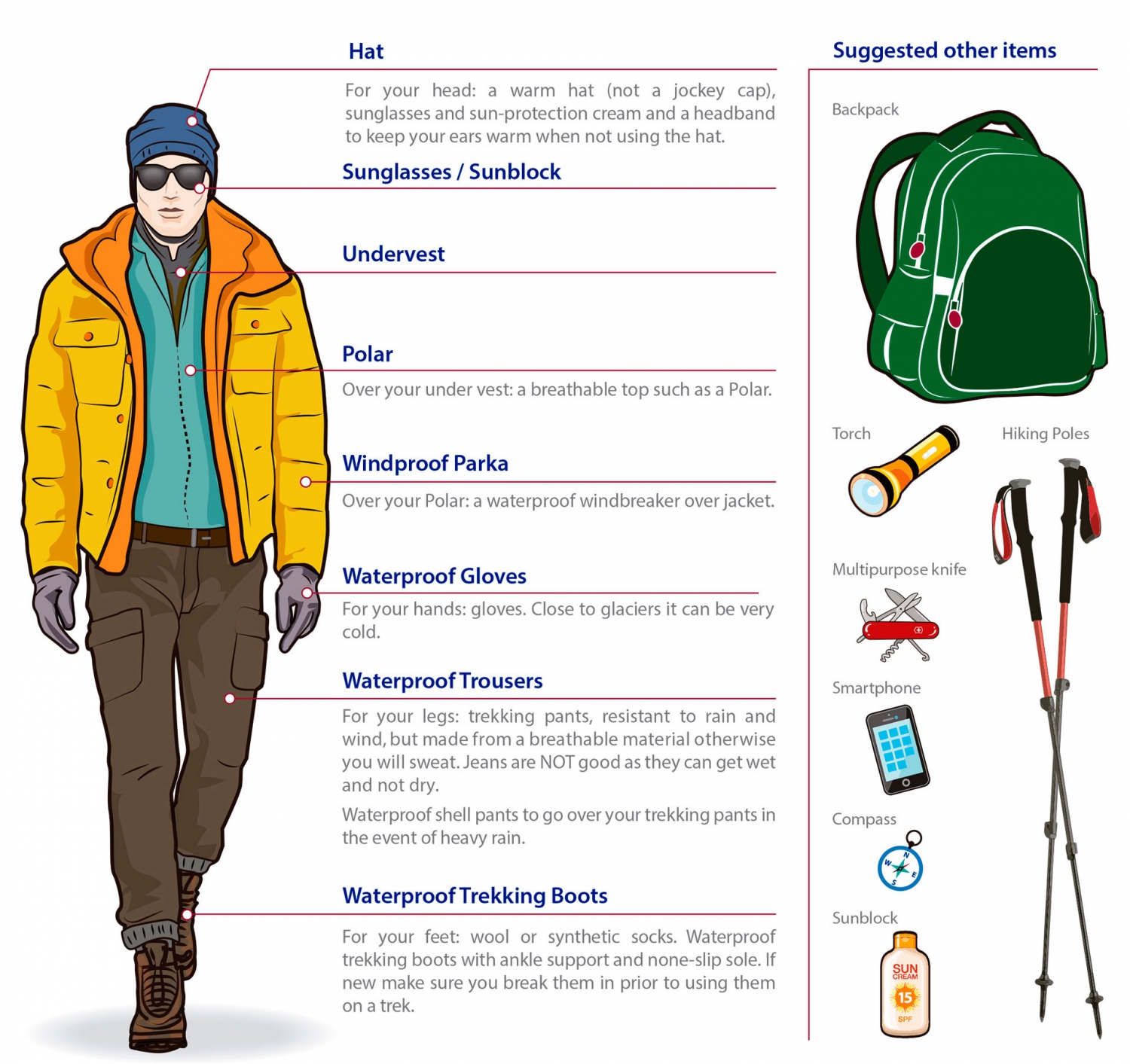 Trekking clothes tips
Choice of backpack/ suitcase
Different airlines have different limits for cabin baggage, so you should check them on the carrier's website before you start packing (the oversized baggage surcharge is usually high and then all our efforts are in vain). For trips to cities I recommend taking a cabin suitcase (remember that a soft suitcase weighs less than a hard one of the same size so you can fit more things in it), if you're going on a holiday in nature or in exotic areas and you're going to move around on the spot - choose a backpack. You can pack your documents, phone, money and essentials into a bag that you can put on your hips - nobody has ever noticed it, even if you are not allowed to have an extra bag (except for hand luggage).
Choice of clothes and accessories
When choosing a wardrobe for a trip, take into account:
The weather
Type of attractions planned: do you need an elegant dress, trekking shoes or a blouse covering your shoulders and long pants to visit the temple?
Duration of the trip: with a few days of trips you can afford a different outfit for every day, with longer trips it does not make sense, after all, clothes can be washed, even in the sink (for example, I wash my underwear in the shower),
Materials: Synthetics are lighter, take up less space and dry faster than cotton, for example
It is also important that the clothes can be freely combined with each other (i.e. that they are in matching colours and patterns) and, if necessary, use the "onion" method. I am a huge fan of scarves, tunics and leggings, which can perform various functions (a tunic as a beach dress or as a blouse with leggings, a scarf as a skirt, a dress, a scarf, a beach towel or a blanket to cover myself in a train; black elastic leggings can play their part in a sports styling, and with appropriate additions complement an elegant set).
Don't take unnecessary things, so find out if there are any towels, dryers or other accessories available in your accommodation (if you need to take a towel with you, choose one that dries quickly - much lighter than classic ones). Instead, pack a lightweight cotton bag or backpack into which you can throw your camera, documents and a bottle of water into the city. Remember, one simple accessory can make a big difference, so instead of packing 100 dresses and T-shirts, take a scarf or a big pendant that takes up much less space in your suitcase.
And most importantly, take only the things you like, because there will be nothing to choose from and there will be nothing to choose from, and you will see the photos in these clothes for the next few years.
Clothing for a plane
There is one basic rule when dressing for an airplane, if you only fly with hand luggage, wear the heaviest and/or most space-saving clothes, i.e. trekking boots, long jeans (if you have to take them with you), a thick sweater, a big sweatshirt and so on. If you are flying from a cold climate into a warm one, remember that the clothes in which you are flying can be easily compressed and to leave space for them in your luggage (in this case I recommend packing in a backpack, to which it is easier to throw something in than in a suitcase stuffed to the brim).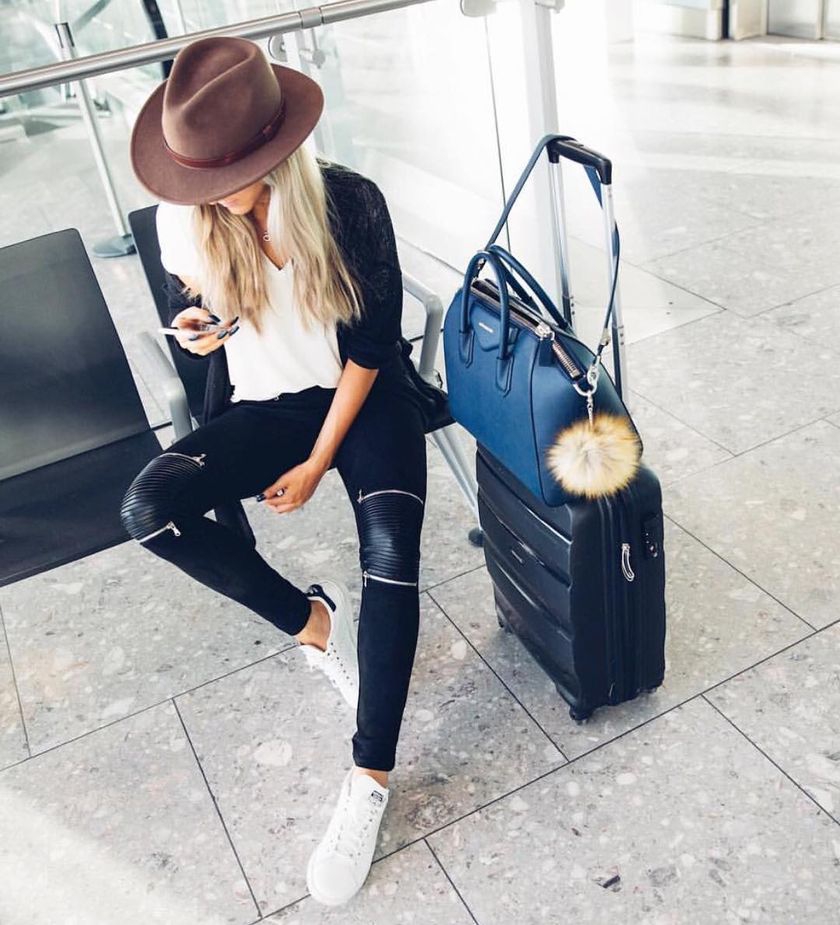 Summer airplane outfits
Cosmetics
When travelling by plane with hand luggage, you have to face one more painful rule: the limit of liquids. They must be packed in packages of up to 100 ml capacity (the size of the package is important, not the content) and fit in a transparent zipped bag (I recommend transparent beauticians). For this purpose, collect mini products, small packages for cosmetics and samples (or buy a ready-made set of mini products such as Herbfarmacy, mini shampoo Bentley Organic, or fantastic birch face cream Sylveco, which you can also use under the eyes). If you are missing something, you can put your favourite cream, gel or shampoo in special plastic travel bottles and jars. If you're going for more than a few days, don't pack the shampoo for your entire stay, as you can buy it on the spot. Take an ankle soap instead of shower gel and wet wipes instead of make-up remover.
Packaging
Before you go to the sample contents of your hand luggage, learn a few tricks on how to make the most of the space in your backpack or suitcase:
Rolled-up clothes take up less space than traditional folded ones,
Do not pack your underwear in a bag, fill the free space in your luggage with single pieces of underwear
space in shoes is also space - stuff it with socks or other small pieces of clothing
Pack the heaviest objects to the bottom
As the last one, pack the things you will have to take out during the security check, i.e. electronics and cosmetics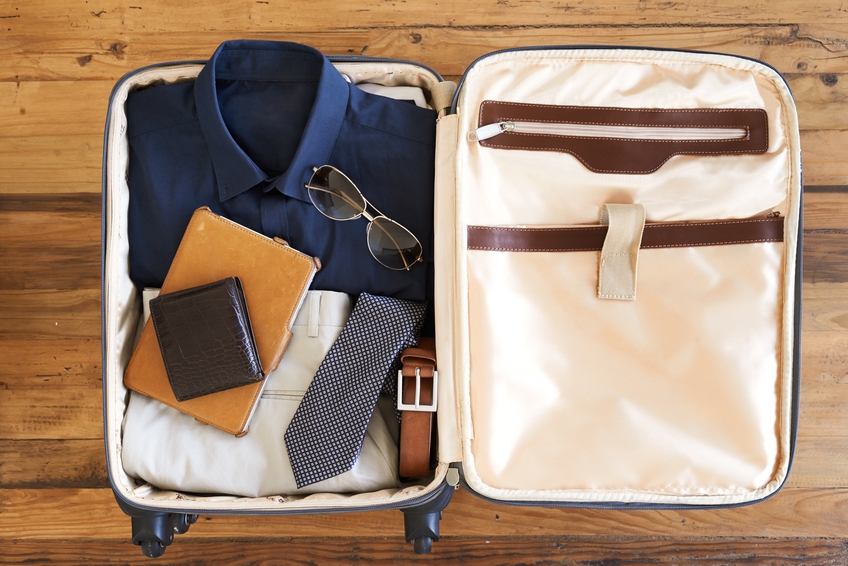 Example of packing a hand luggage
Wear sports shoes, long leggings, a short sleeve blouse, a thin sweatshirt (useful for Asian trains and climatization buses) and, if necessary, an easily compressible jacket. Remember, too, that in most South East Asian countries you can buy thin, climate-friendly clothes cheaply, so don't be afraid to stay out of your wardrobe and pack as little as possible.
Written by:
Chile Local Expert
PUBLISHED: Dec 24th 2019 | UPDATED: Jan 27th 2021