Puritama Hot Springs
Hot Springs
Another of the best hot springs in Chile hidden in the arid landscapes of the north of the country, comprising a set of small waterfalls and stepped pools, located in the Atacama desert, with waters that sprout at 33ºC along the Puritama River road. The facilities of the place, designed by the distinguished national prize architect Germán del Sol, are quite simple, managing not to alter the natural environment, consisting of some bathrooms, dressing rooms and wooden paths that communicate the different pools.

35 kilometers from San Pedro de Atacama and 3,475 meters above sea level, inserted in a large stone ravine, you will find the Puritama Hot Springs. Place name that in indigenous language means 'hot waters'. The sector is designed for family rest and has 8 warm water wells that have a temperature between 25ºC and 30 ° C. The water has medicinal and therapeutic properties since it is nourished by the minerals that the Puritama River brings.

Its waters are considered as Sulfated-Sodium Thermal Meso Waters, with a pH of 7.09 neutral, among its components are chlorine, sulfates, magnesium, sodium, lithium, potassium, calcium and boron. The excellent Puritama Hot Springs are inserted in the depth of a ravine and you can arrive in a 4x4 or 4x2 vehicle, to the same bathrooms or failing that, park at height and descend on foot. The bathrooms have wooden paths that connect the pools together, bathrooms, dressing rooms, cafeteria and massage services on weekends.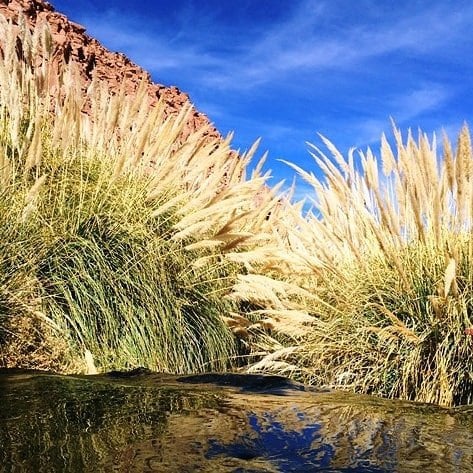 Puritama Hot Springs​



How to get?
It should be noted that there are agencies that make the return of the Tatio Geysers through the Puritama hot springs. But if you go directly to the hot springs you can arrive by private vehicle or taking a tour from San Pedro de Atacama, traveling only 35 kilometers of which 25 km are asphalted and about 10 of land. First you will arrive at the sector called Guatin where the roads to Machuca (left hand) and Puritama bifurcate, there you will take your right and you will begin to climb the hills along the main road until you reach the access to the Baths, which is duly signposted.

Administration and prices
The sector is owned by Explora S.A and is a tourism project that is executed in conjunction with the Atacameñas communities. The profits generated go to the benefit of indigenous projects linked to the field of education.

The attention is permanent throughout the year, between 09:15 hrs and 17:30 hrs. The administration reserves the right of admission according to the maximum load capacity of the place. The value of the tickets is: Regular: $ 11,000 Children between 3 and 12 years: $ 5,000 Afternoon hours, from 2 pm, except weekends and holidays: $ 5,000

Budget
Best For Whom
Expats
Mature Travellers
Business Travellers
All Ages
Groups
Best For What
Relaxation
Cultural Experience
A Bit of Romance
Nature
The Local Experience