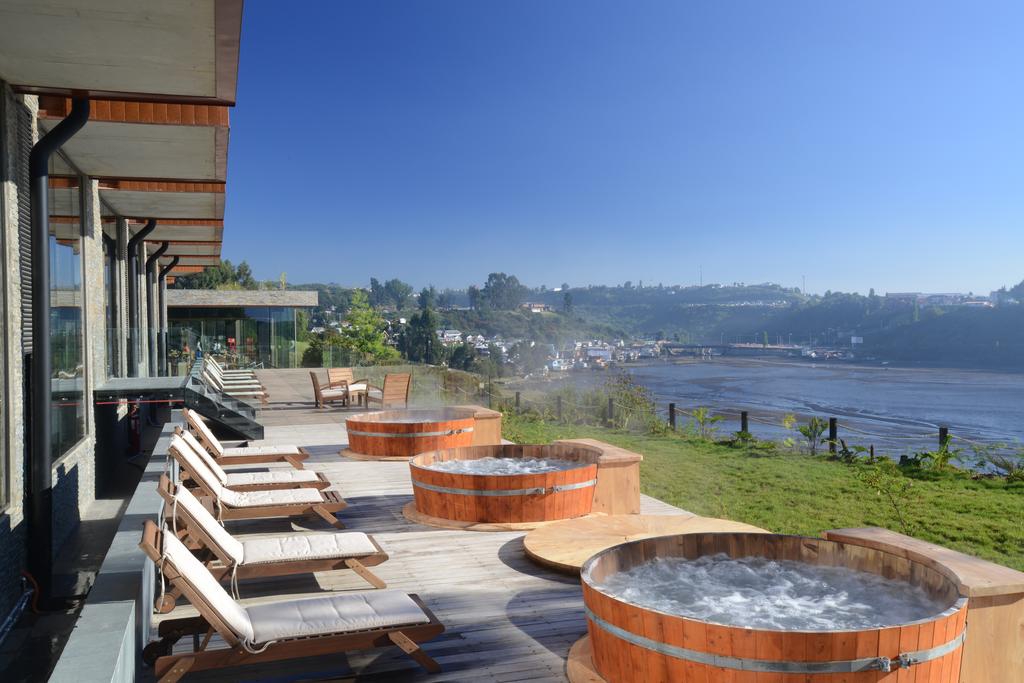 10 hotels in Chile that will impress you
Family Fun Lifestyle Mini Break Retreats & Relaxation Top 10
These hotels in Chile deserve a visit at least once in a lifetime. Lush luxury, they are also surrounded by incredible landscapes.
Huilo Huilo
Sleep between the treetops. This is how it feels when you stay at one of the most magical hotels in Chile, the one with the
Huilo Huilo nature reserve
, in the Los Ríos region. There you can choose between the Nawelpi Lodge, the Nothofagus, the Fungi Kingdom and the Magic Mountain (this was the first to be built). All are made with noble materials, such as wood and rock, and none have televisions. This, because they have the policy of disconnecting and approaching nature.
Note
: in all you will find maximum comfort, including spa service, swimming pools and good restaurants.
& Beyond Vira Vira
20 minutes from Pucón is this wonderful place, so peaceful, complete and diverse that makes you want to stay there and not go anywhere, despite the fact that the stay includes several excursions.
Its lenga wood installations are in the middle of a 23-hectare park, on the banks of the
Liucura River
, which can be seen and heard from the rooms. It is a luxury hotel that offers food service - dishes prepared delicately and tastefully by the chef of the place - and walks, all included in the value of the accommodation (from $ 178,500 plus VAT per person per night, with half board).
Desértica
In the middle of
Caracoles Street
, the main artery of San Pedro de Atacama, is this charming hotel that actor Jorge Zabaleta opened at the end of 2018. It is a mini oasis in the middle of this desert town, ideal to rest and learn more about the culture and traditions of the place.
Note
that, as it is intended to relax, it can accommodate only 24 passengers. The rooms, very comfortable, have heating, a spacious bathroom equipped with organic and biodegradable products (shampoo, conditioner, soap, creams), bathrobes, hair dryers and even slippers. They do not have television, so that the
disconnection of the city
is something real. Do not forget to try what comes out of your kitchen that, although it only serves breakfast at the moment, works with local products, such as the muña muña, the chañar, the carob tree and others.
Vik Winery
To say that the Coldplay band the billionaire David Rockfeller chose this place to stay is enough to prove that it is one of the most luxurious hotels in Chile. It is the
Vik Vineyard hotel,
located in the O'Higgins Region, in San Vicente de Tagua-Tagua. It has 23 rooms within a glazed structure, with the best views of the
Cachapoal Valley.
Its infinity edge pool, which simulates the shape of a lagoon, is all you'll need for total relaxation.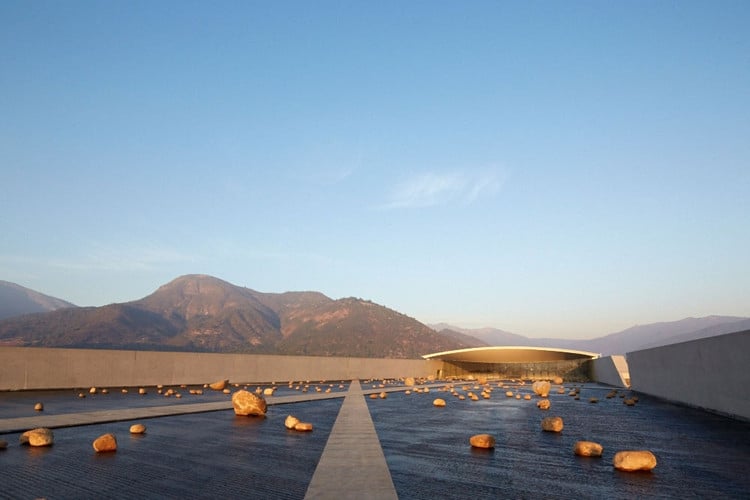 Vik Winery Chile
The Singular Patagonia
It is in Puerto Bories, 10 minutes from
Puerto Natales
, and is a must for those who go to the Magallanes Region.
Already the place is a luxury in itself: it was built on an old refrigerator declared a National Monument, which now sports exposed beams, adobe and reddish bricks that mix seamlessly with metals, concrete, swimming pools and other details of Vanguard. Its 57 rooms have a magnificent view of the sea, as well as its beautiful spa.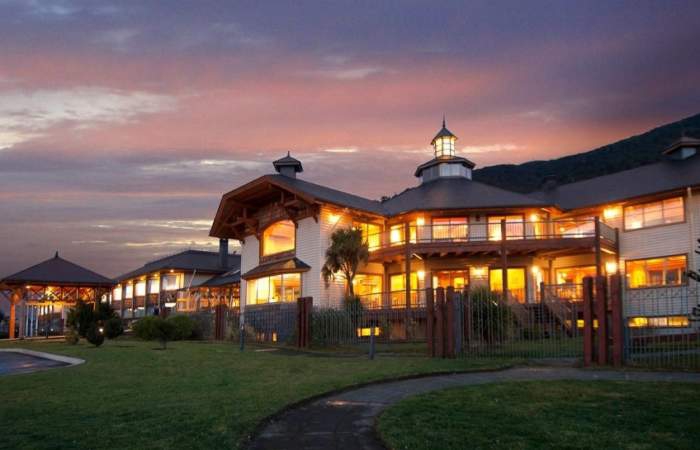 The Singular Patagonia
Loberías del Sur
On the shores of Puerto Chacabuco, the strategic place from where catamarans depart towards the San Rafael Lagoon, is this unique place, made in lenga and
Oregon pine
, cozy and warm as few in this cold and beautiful area of Aysén.
It has 60 rooms that provide space and comfort, beautiful views, a beautiful bar, a restaurant with a very complete buffet and, of course, excursions for all tastes, which can be hired in packages (from $ 541,000 for three days, plus food and walks to
Aykén Park and San Rafael Lagoon
) or separately, even if you are not a guest of the place. Staying at the bar and ordering a "calafate sour" ($ 3,500) or simply sitting down to read in one of the livings that are spread across the floors of the hotel (with free coffee and tea available), are great moments waiting for go out and explore the endless outdoor postcards that Patagonia keeps.

Futangue Lodge
Futangue Park is the best kept secret of
Lake Ranco
. Haven't you heard name it? Then, you should know that it is a private nature reserve of more than 13 thousand hectares, which has been open to the public for a couple of years. There you can go trekking in the Valdivian jungle, go kayaking or disconnect at its Futangue Lodge, a hotel in the middle of the forest, where silence is king. Now you also have an amazing spa, with indoor and outdoor swimming pools, where you will relax enjoying this moving southern landscape.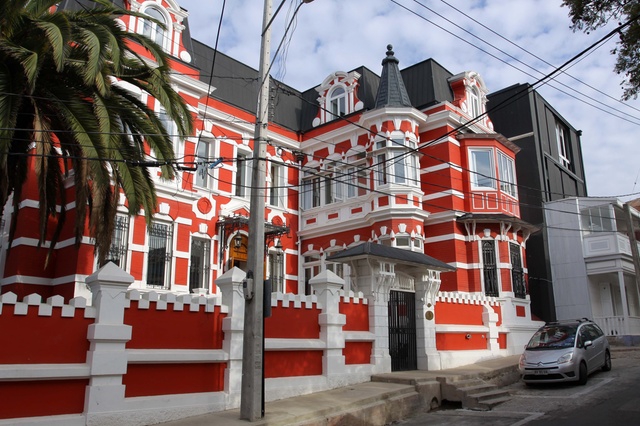 Palacio Astoreca Chile
Palacio Astoreca
How about sleeping in a 1923 palace overlooking the bay of Valparaíso? That is the experience offered by the Hotel Palacio Astoreca, which opened some years ago in the house of the Alegre hill that the Croatian businessman Francisco Petrinovic ordered to be built at the beginning of the 20th century.
Everything is elegance in this hotel, which was restored by the
architect Mathias Klotz,
who rescued several of the original elements of the construction. It has an interior patio with hot tub, a terrace to take advantage of the Buenos Aires nights and a location with the bohemian circuit of Cerro Alegre at hand. That and more offers what is one of the hotels in Chile with more history.
Hotel de la Isla
Where to stay in Castro? In this hotel, which faces the
Gamboa River
and has a wonderful view of the bay. It has several attractions that make you just want to get out of there, such as its cozy rooms or its spa, which includes outdoor hot tubs. In addition, as part of the Enjoy chain, this hotel has a casino with shows all year round and two restaurants where you can gloat over chilote dishes, but with a modern twist.
Cuarzo Lodge
On
Punta de Lobos
beach there is one of the most great boutique
hotels in Pichilemu
. Its name is Cuarzo Lodge and you will recognize it because there are comfortable eight exclusive suits built with noble materials and with a beautiful view of the bay.
In addition, all have a small private garden with a hot tub for personal use. It is always hot and is ideal to use during the afternoon with a glass of sparkling wine. Good idea is that you ask to bring breakfast to the terrace of the place. They will send you a basket with chopped fruit, a scrambled egg paila, a dish with artisan bread fresh from the oven, natural juice, avocado, cheese and two
generous cups of coffee
(if you ask for it).
Note
: they also have a cold water pool, a fire pit and the
Quartz restaurant
, one that is only a few meters from this land full of very well maintained wild plants. There it is only cooked with local products.
Written by:
Chile Local Expert
PUBLISHED: Jul 8th 2020