Valle del Elqui - Coquimbo
Are you a business owner in Chile?
Promote your business 365 days a year with the #1 Guide to Chile.
Gain MAXIMUM EXPOSURE with a 'Dedicated Business Profile'
Find Out More
Directions to Valle del Elqui
Elqui Valley

Are you a nature lover looking for a different kind of relaxation experience? Then take the plunge and travel to the Elqui Valley. Visit one of the most important Valleys in Chile, where the production of wines such as Syrah and Carmenére stands out.

Walk around its hills planted with vineyards and visit the small villages that have combined agriculture with tourism for years. Get to know Vicuña, the city where poet and Nobel Prize winner Gabriela Mistral was born, and take advantage of tasting the typical gastronomy in sophisticated restaurants or picturesque eating places. If you like to test your senses, visit the pisco processing plants, where you can learn about the whole process of making this grape distillate, do some tasting and shopping.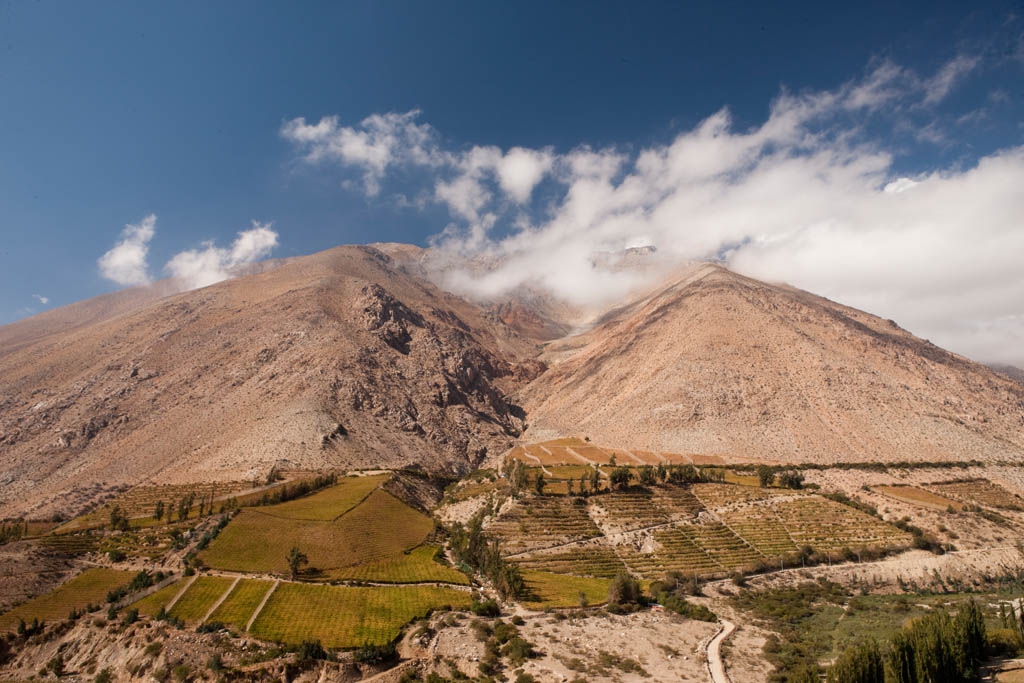 Valle de Elqui, Chile



For sports and adventure lovers, the valley has trekking routes, horseback riding, bike trails and jeep tours. Do you need a moment of total relaxation and complete disconnection? Take advantage of the healing energies attributed to this area of Chile and try the alternative therapies such as reiki, meditation and massages that the valley keeps for you.

What to visit in the Elqui Valley?
Vicuna - It is located about 528 km. from Santiago de Chile and 60 km. from La Serena, in the high course of the Elqui or Coquimbo River, at about 700 mts. Its geographical conditions, with a Mediterranean climate and the presence of fresh water, have allowed the development of a rich agriculture. It is the birthplace of Gabriela Mistral and houses the museum that bears her name, this being its most characteristic cultural element.
Mamalluca Hill Observatory - This observatory is a scientific, tourist and educational complex, located 9 km. northeast of Vicuña and 60 km. from La Serena. It is open to all kinds of public and every night of the year to tourists who are fond of astronomy, subject only to unforeseen weather conditions.
Cerro Tololo Interamerican Observatory - Located 80 km. from La Serena and 2,200 mts. high, it is a project that began in 1962 with the aim of building an astronomical observatory in one of the best places in the world to see the skies. It has five working telescopes and tourist visits are made during the day, to the facilities, since astronomical observation is reserved for scientific purposes.
Pisco Elqui - Village located on a hill, where there are good hotels and restaurants. One of its main attractions is the Solar de Pisco 3R, where you can visit the distillery and the facilities in guided tours. This belonged to one of the first producers in the area, Rigoberto Rodríguez Rodríguez, and was later bought by Pisco Control. It is located 4 km. on the road to Alcohuaz and another place of interest is a subterranean that was formerly used as a wine cellar and a place for partying by its owner and friends, all visible by the scratches on the walls and paintings. On the outskirts of Pisco Elqui is the oldest pisco producer in the valley, known as Los Nichos.
Cochiguaz Valley - Considered to be highly mystical, it has attracted meditators and groups practicing alternative medicine and lifestyles for several years. It is also a wine and agricultural area, and is accessed by an 18 km dirt road that follows the twists and turns of the Cochiguaz River, where a beautiful landscape can be appreciated through steep slopes and desert mountains covered with cactus.
Algarrobito - Located 11 km. from La Serena and 51 km. from Vicuña, it is a typical Elqui Valley town, surrounded by fruit trees and orchards. Its main attractions are the cemetery, one of the oldest in Chile, and a beautiful church built in adobe. The inhabitants of Algarrobito have specialized in the production of exquisite delicacies and sweets that they offer to tourists.
San Isidro - Very old town, of indigenous origin, located 3 km. northwest of Vicuña, through a road that is in good condition. Its church is the main attraction, with traces of colonial masonry in the interior. In the month of May, the San Isidro Festival is celebrated in honor of the patron saint of agriculture.