About San Jose Volcano
San Jose Volcano is located on the border of Chile and Argentina, in the Central Andes, 60 kms from Santiago de Chile. It is an active volcano with stable behavior, but it does not represent an immediate risk for the population. The ideal months for trekking are from October to May, since during the rest of the year there is a lot of snow and it can be dangerous and you have to use other implements.

Within the commune of San José de Maipo is the San José volcano, which is located on the border of Chile and Argentina. This gives rise to the Volcano River, a tributary of the Maipo River, the most important in the Metropolitan Region.Its complex is formed by two volcanic buildings: one with four central craters with permanent fumarolic activity and the other crater is open and wide known as El Marmolejo hill.

Volcano has an active behavior, during almost all the year, but that nevertheless, does not present a danger for the population.

Mountaineers from all over the world come to this place with the idea of acclimatizing for a later ascent to the Aconcagua. There are six stages of excursion, but nevertheless it can take around 8 days depending on the weather.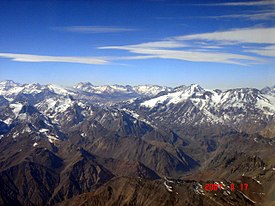 San Jose Volcano




San Jose Volcano is a composite volcano, and part of a small eruptive mountain range that is about 8 km (5 mi) long, that also includes the minor summits Plantat I and II and La Engorda. Santiago de Chile was founded in 1541 and Volcan San Jose is 70 km (43 mi) away. Since then, no significant eruptions were recorded. Historic records of activity a limited to permant fumaroles sometimes with small pyroclastic columns.
Increases of this activity was often associated with major earthquakes - like the 1906 Valparaiso-Santiago earthquake (Magnitude 8.4). During this event also an explosion on the central crater was observed.

Given this small volcanic activity there is a possibility that Volcan San Jose is close to an explosive eruptive cycle, with characteristics similar to the eruption of Pinatubo (Philipines), where no eruptions had occurred for 600 years.

The area covered by glaciers of the Marmolejo (6,110 m/20,045 ft) - San Jose mountain range is around 100 km² (39 mi²), with thicknesses between a few meters and 40 meter (130 ft).

The volcanoe represens a risk to the people of the Maipo valley and the 4.5 mio people of Santiago de Chile, but also to the Argentina side. Villages are further away from the volcano here, but the largest glaciers can be found in the wind shadow on the Argentine side and pyroclastic material and gases can be transported far into Argentina by the wind (the wind mostly comes from the West, from the Pacific).
Best For
Premium

Families With Teenagers

All Ages

Students

Groups

Cultural Experience

Nature

Adrenaline

The Local Experience

Adventure