About La Moneda Palace
Architecturally and historically speaking, one of Santiago's most important buildings is the Palacio de la Moneda, located between the Alameda and Calle Moneda in the heart of the downtown area.

Although it currently serves as the seat of the president as well as the functional headquarters of several of the government's ministries, the building has a rich history that is integral to an understanding of Chile's past. La Moneda was originally intended to be a coin mint. It was designed by Italian architect Joaquin Toesca and opened in 1805. It served this original purpose for about fifteen years. Later, in 1845, it became the residence of the president under the Bulnes administration.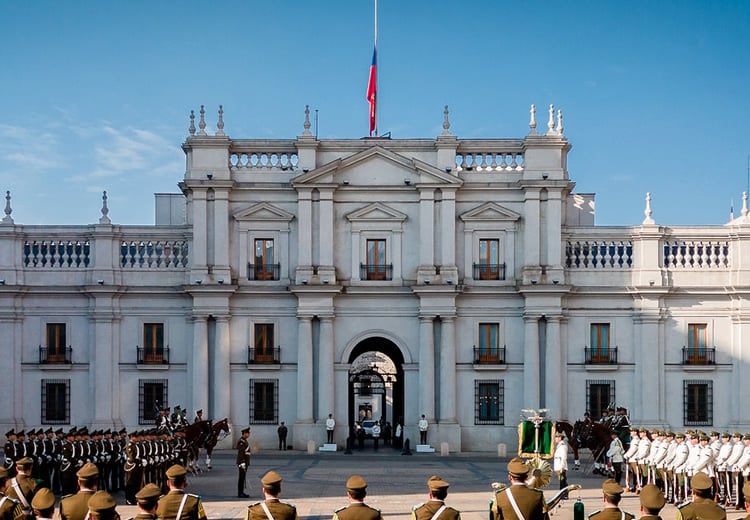 Subsequent presidents did not reside in the building, but it became the official center of presidential operations. La Moneda's integral moment came on September 11, 1973, when Pinochet's military forces staged a coup d'etat against then-president Salvador Allende. They bombarded the palace, and later that day Allende was declared dead. His death was very controversial — some said it was a suicide while others argued it was an assassination. The death has since been ruled a suicide, but dissenting opinions continue to this day.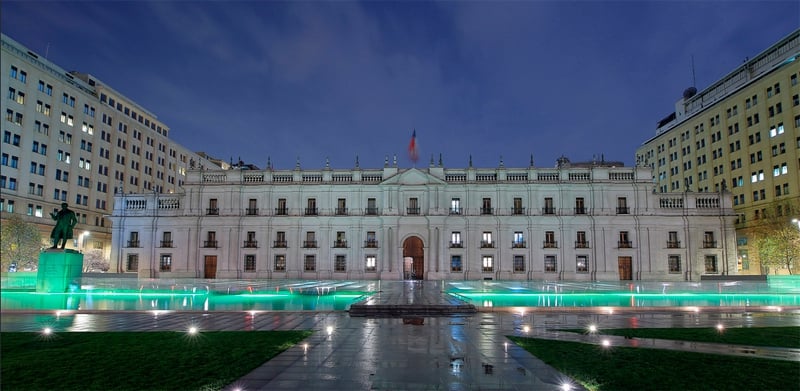 This day is infamous in Chilean history, and in this way, so is La Moneda. These days, the government seems to be making an effort to soften the Palace's image. It still serves as the seat of the president (although she does not reside there). A changing-of-the-guard ceremony, replete with horses and horns, happens every other day here at 10 am (11 on Saturdays).

Beyond showing off its current functionalities, the Chilean government has created a Cultural Center in the palace, featuring two galleries and a rotating principal exhibition.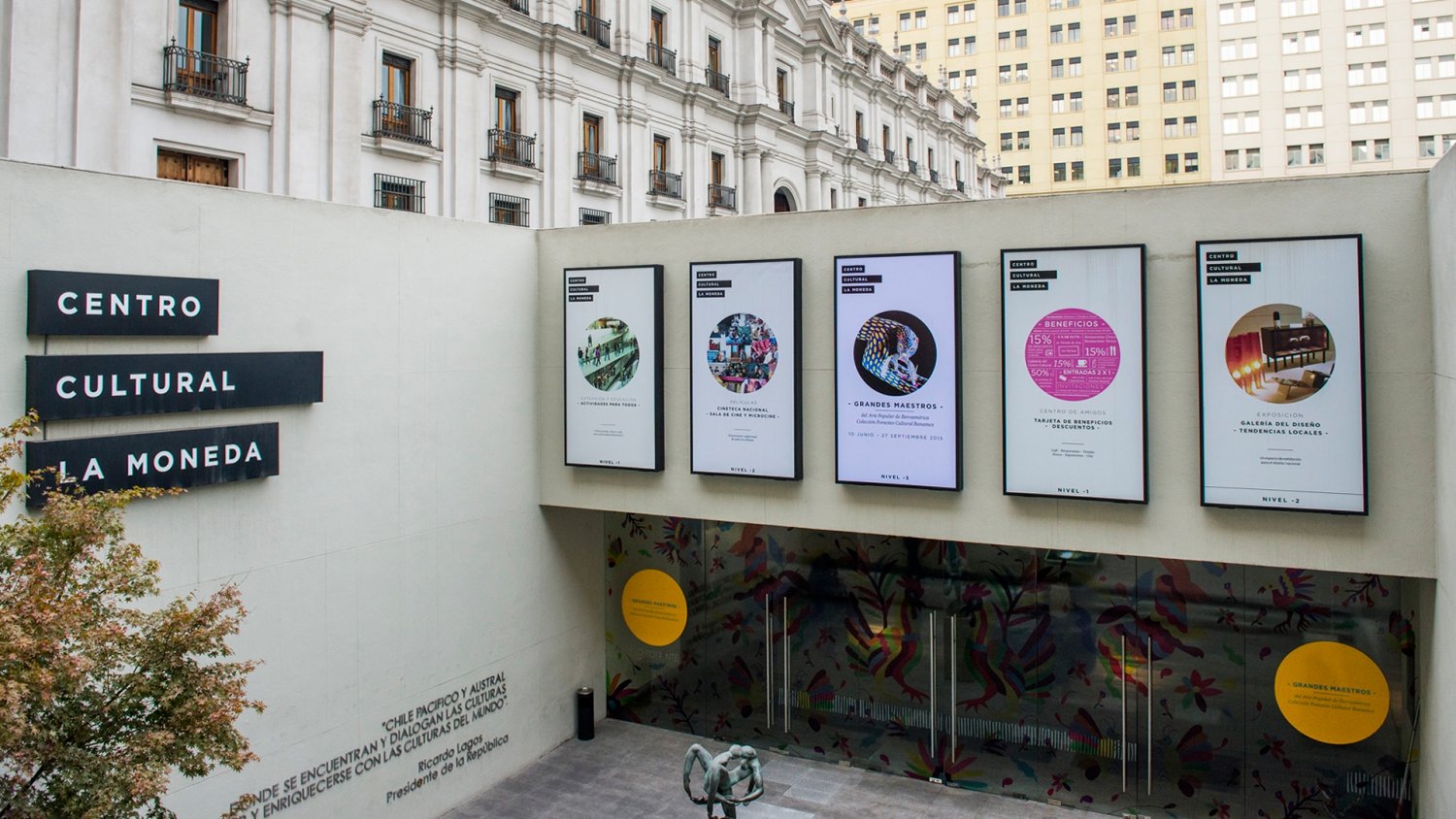 These spaces showcase primarily Chilean artists and sometimes host cultural events such as talks or book signings. There is also a café, a restaurant, and a gift shop selling Chilean artisan goods. The galleries are open every day of the week from 09: 00-21: 00 and entry is free. The rotating exhibition is open from 09: 00-18: 30, and the price is 5,000 CLP for a tourist, 2,500 for a tourist student or senior citizen, and 2,000 for a Chilean resident. However, entry is 50% off if you arrive before noon. Enter the Cultural Center through doorways on Teatinos or Morandé.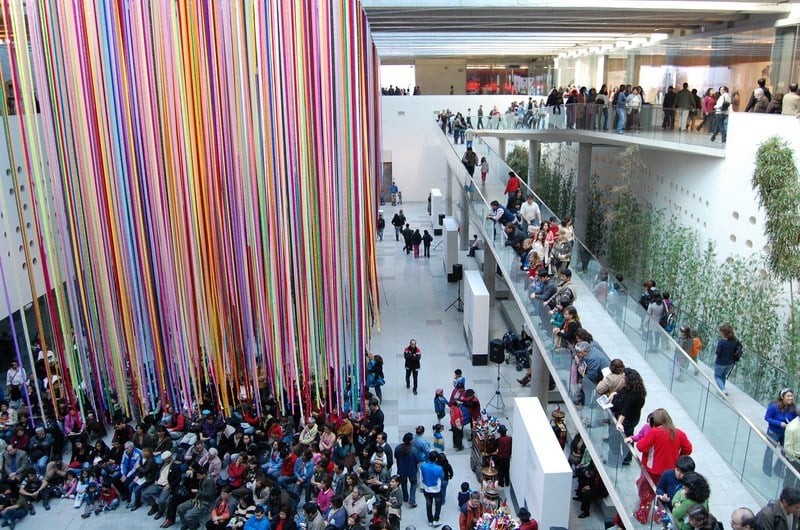 It's worth noting that, while there are interesting things inside La Moneda, a significant attribute of the attraction is the outside of the building. It's one of Santiago's more impressive structures, and it presides over the Plaza de la Ciudadania, which is lovely on a sunny day. Moreover, it's close to other great areas, like Paseo Huerfanos, where you can have lunch and people-watch during the bustling weekday hours. Arrive to this area by taking Metro Line 1 to La Moneda and exiting north on Teatinos.

Best For
Free

Expats

Mature Travellers

For Her

Party Animals

Couples

Business Travellers

For Him

Families With Teenagers

Backpackers

All Ages

Students

Families With Children

Groups

Alfresco Dining

City

Cultural Experience

Lively Atmosphere

Quick Bites

Pre Theatre

The Local Experience

Outdoor Area

Adventure