Iquique Clock Tower
AttractionsSightseeing ToursNature & Adventure ToursCulture & History Tours
Best attractions in Chile

The Iquique Clock Tower is a structure located in the Arturo Prat square of that Iquique, Chile. It was built in 1878 - Iquique being Peruvian territory - and its watch was imported from England.

According to Patricio Advis, the Clock Tower next to the buildings surrounding Prat Square - the Municipal Theater, the building of the Protective Society of Employees of Tarapacá, the Spanish Casino, and the Croatian Club - is one of the most urban expressions representatives of the salt flat period. It was declared a national historical monument on July 13, 1987.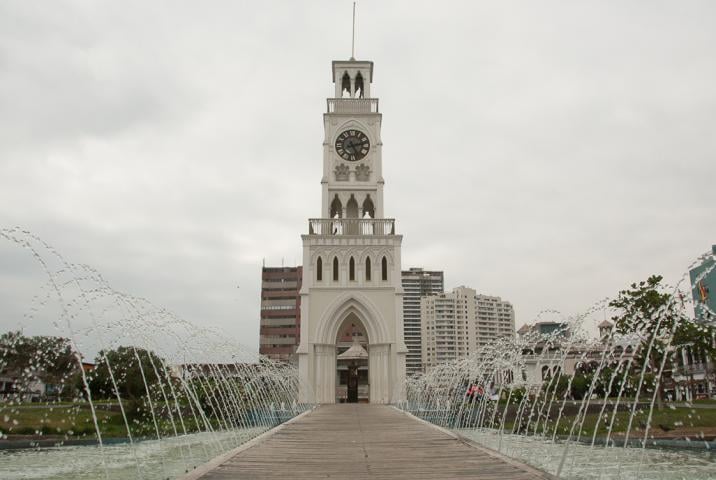 History
Its construction was agreed by Mayor Benigno Posada and the City Government Council on December 14, 1877, replacing the clock of the Mother Church, which had been destroyed by a fire in 1873.

The commission designated for the study of the project estimated that 7000 soles would be necessary for the acquisition of the clock, whose purchase would finally be agreed with the jeweler Federico Franzt. The four-sided clock, which marked the quarters of an hour with a bell and the hours with a larger bell, arrived from England on December 10, 1878, aboard the steamship Ibis.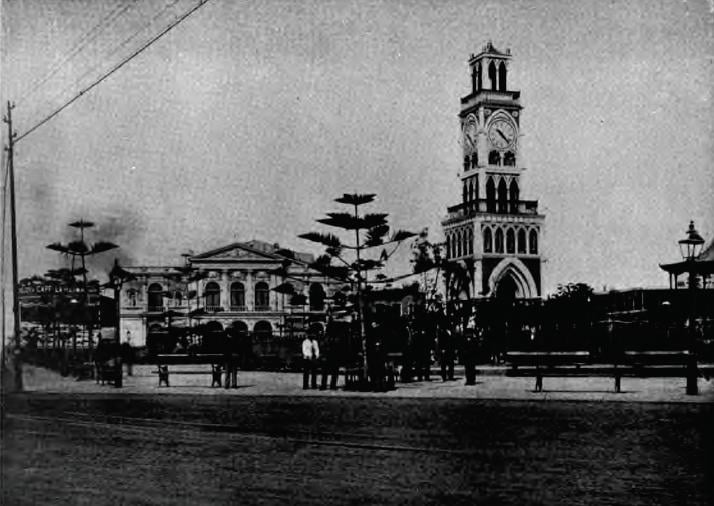 For its part, the tower - whose design is attributed to Eduardo de Lapeyrouse - was built during 1878, so that as soon as the machinery arrived, it was installed. It is estimated that in January 1879 it was already functioning, about four months before the beginning of the Pacific War.

In October 1880 it was saved from a fire that destroyed much of the center of Iquique. As a result, the square - already known as Prat Square - was extended to the south and west, annexing apples that had been destroyed by the incident. The tower would remain off-center until in 1889 a company of the Pisagua battalion placed it in its current position, by order of Mayor Ramón Yabar.

Characteristics
The tower is eclectic in style, combining gothic elements with elements of Islamic architecture. The building thus presents pointed, aggregated, and lobed arches in the same composition, evoking Mudejar art.

It is built in Oregon pine, it is formed by three stepped bodies, each with a square section. The base has in each of its four faces ogival arches that open like porches.

Budget
Best For Whom
Expats

Mature Travellers

For Her

Couples

Business Travellers

For Him

Families With Teenagers

Backpackers

All Ages

Students

Families With Children

Groups
Best For What
City

Cultural Experience

Lively Atmosphere

Creative & Artistic

The Local Experience

Outdoor Area

A View To Die For