Chillan spa
Hot Springs Spa
This tourist center, located on the hillside of the Chillán volcano, is undoubtedly one of the national tourism references, famous for hosting one of the most important ski resorts in South America and some of Chile's best hot springs in terms of infrastructure.

In total, the center has eight thermal pools distributed in different places, 2 swimming pools at the Nevados Hotel, 4 swimming pools in the Water Park and 2 swimming pools in the Valle Hermoso sector, infrastructure that is complemented by a series of hotels, spas and programs recreational, which include seasonally: Canopy, trekking, canyoning, horseback riding, snowmobiling and snowcat riding.

The Termas de Chillán are located 82 kilometers from the city of Chillán, in the direction of the Andes Mountains. Its ski center, hot springs and mountain activities make this place an international destination. The ski center is known worldwide for the variety of its slopes and the length of these. One of the main differences with other Chilean ski centers is its beautiful landscapes that allow skiing, for example, in the middle of old mountain forests. The ski season is between the months of June and October.

The hot springs are another important attraction of this place. Sulfur and iron thermal pools with a temperature around 38 ° await tourists both in summer and winter, resulting in many unique experiences sinking in hot waters and surrounded by snow at the same time.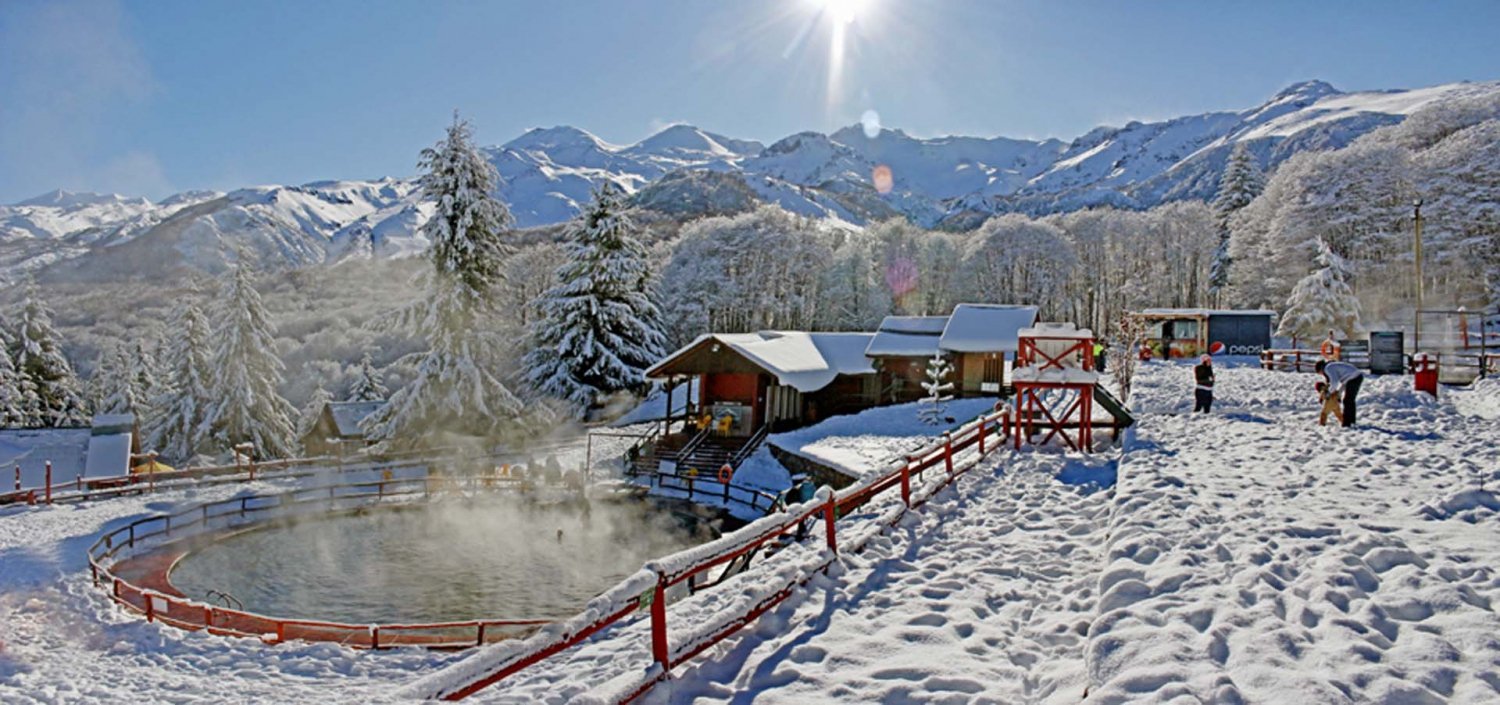 Chillan spa



8 kilometers from the ski center is the Las Trancas Valley, a mountain town that concentrates most of the accommodation alternatives. For families or groups of several people there is a great variety of cabins, all surrounded by beautiful landscapes. The hotels, like the cabins, stand out for the mountain range characteristics of the environment where they are located, in addition to having personalized attention with emphasis on the passenger experience. Another alternative to spend the night is the hostels, which have pleasant common spaces ideal for sharing and meeting people.

The Las Trancas Valley has a vast range of outdoor activities that are mostly related to the mountain: trekking, horseback riding, hiking, rappelling and mountain biking among many others. The Termas de Chillan and the Las Trancas Valley are a privileged destination thanks to its double season and the variety of its attractions: snow, hot springs and all the activities related to the mountain.

Budget
Best For Whom
Expats

Business Travellers

Families With Teenagers

All Ages

Groups
Best For What
Ski In/Out

Spa

Cultural Experience

A Bit of Romance

Adrenaline

The Local Experience

Adventure