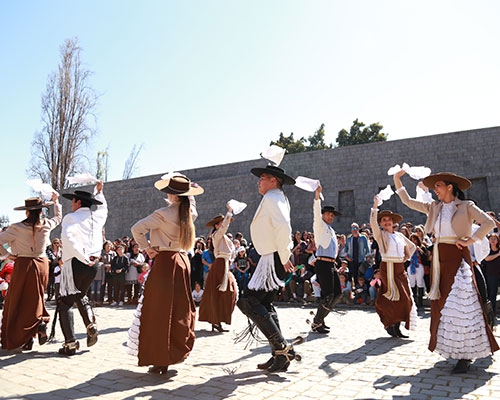 Wine Day at Santa Rita Winery
Celebrities Editorial Food & Drink Lifestyle Mini Break Seasonal Celebrations
Wine Day:
Santa Rita Winery
opens its heritage wineries to the community and offers free tours and guided tours of the
Andean Museum
In order to value
Chilean wine
, the vineyard will celebrate this national day on Sunday, September 1, with various activities for the whole family, folklore shows, craft exhibitions, a large winery sale and much more.
Santiago
, August 2019. Bringing all the heritage and wine tradition of
Santa Rita
closer to the community, living first hand the history, culture, gastronomy, wines and their natural environment, is what the vineyard looks for next Sunday 1 September to celebrate, with the whole family, National Wine Day.
Only 45 minutes from
Santiago
, all who visit
Santa Rita
that day, from 10:00 a.m. to 6:00 p.m., will be able to access free guided tours every half hour by our historic wineries and guided tours of the Andean Museum, where an archaeological and ethnographic collection of more than 3,000 pieces from the pre-Columbian villages that inhabited
Chile
is exhibited.
The community will be integrated into this national holiday, who will participate through handicraft exhibitions, loom samples, embroidery, local cuisine and wine products, among others. Folk shows and live music will also be added.
That day there will be a large winery sale and discounts on wines and special packs will be offered at the
Wine Shop
. It will be made available to the public, through stands, products of Carmen Winery and Santa Rita Winery where visitors can taste their different wines, in addition this year there will be an exclusive tasting of ultra premium wines. There will also be food trucks and various activities for the little ones.
For those who want to have lunch at the
Restoran Dona Paula
they must make their reservations by email restaurant@santarita.cl or by phone 223 622 594. For the tours it is not necessary to make a previous reservation.
Santa Rita Winery
is located at Camino Padre Hurtado 0695, Alto Jahuel, Buin.
Written by:
Chile Local Expert
PUBLISHED: Aug 17th 2019