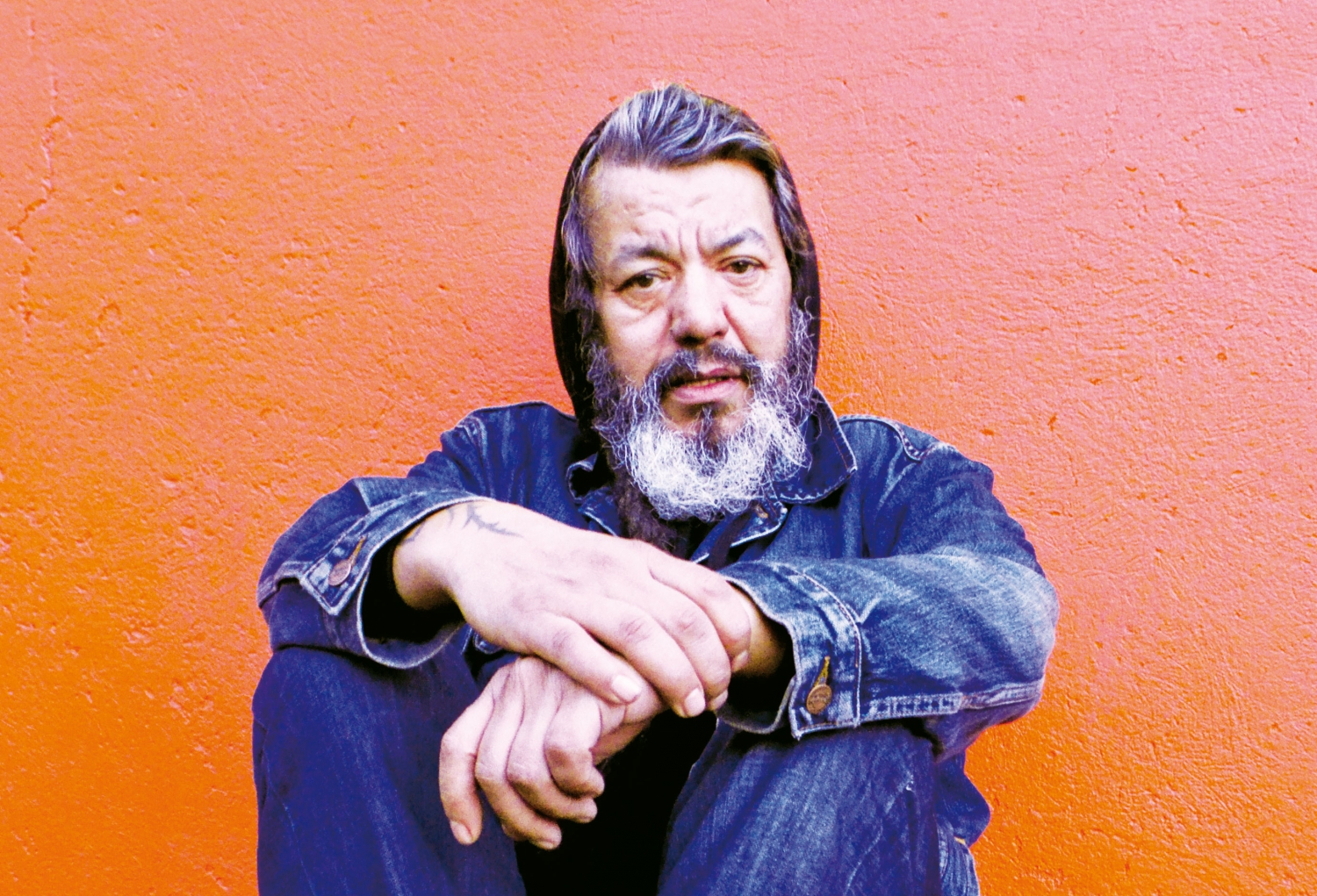 Poet and cultural manager in Casa de Salud Concepcion. 'Transform the poem into a lake of a real life'
Arts & Culture Inspiration Interviews Lifestyle
With twenty-five years of ventures, his last six have been at Casa de Salud, making a cultural journey from Cariño Malo, his first bar restaurant, with a jazz, blues, funk atmosphere. Then he left Concepción a couple of years ago and returned to install La República for three years, introducing new musical and gastronomic concepts. He returned to travel for six more years, settling in Santiago, working in Galpón 9 and El Clan.
He also makes productions and tours as Dj for Uruguay, Argentina and Brazil. In 2009 he returned to Concepción installing El Bar del Frente which lasted six months, collapsing with the 2010 earthquake and with a hostel that survived, performing concerts in that place, the last antecedent before his current project, he says: "In Casa de Salud I managed put together everything done in the other places, we have two record labels and a recording studio, an advertising and design agency, a recycling laboratory, a serigraphy and merchandising workshop, a Cultural Center with training activities, a publishing project that It starts in 2020.

In addition to a place with three stages and seven different spaces, we have a very important daytime activity, almost seventy people work in a multidisciplinary team, including from people who operate the bar, as well as journalists, psychologists, sound engineers and producers. "
When you started with Casa de Salud, did you create a magnet that attracted people quickly or was it a longer process?
It was quite fast, perhaps because of the trajectory of my other places, which are a registered trademark, in this round for the first time a long process has accumulated and I want to stay. People know that here there is a quality standard, because we care about the treatment of musicians, the technical issues, as well as the context of this place, with art and a speech on the walls.
What is that speech?
It is political, as we intend to generate social participation is free entry. I became a torpedo in life to always remember four words, which are freedom, respect, participation and innovation, around which I build everything I do.
How do you face your destiny, let it happen to you or do you intervene?
I am of the caste of the stubborn, I do not accept the things if I do not like them or they are not as I want them, I usually get up earlier than my destiny, to catch it.
If you looked back could you say that destiny was built with logical coherence?
Absolutely, I have been following a route and expanding my range of action within a context, incorporating people into the project, believing in the team, because when I left I was alone and now I can not think about this without considering that I am part of a team, of which I do not necessarily make decisions at times, but I am one of those who executes. I have been director of ideas, to maintain the spirit of the place, I have been covering things that sometimes come out of the area of ​​my own competitions and I trust blindly in the equipment that I have, pure jewels, sharing common purposes and interlaced in a beautiful fabric .
Human teams cost money, do they earn with the consumption of the bar?
Initially, we created activities as the bar allowed us to finance them, we worked on the sustainability of each project and its equipment, for me money is important as it is a tool to achieve that kind of things, but it is outside of my goals .
Is it a work source for the entire team?
Of course, it is a job that we chose to do, it is the only thing that I would like and could do.
It is a management business model, which does not have the cultural whining to seek state funds.
After twenty years, just last year we postulated a fund that we won and we did it because we have a sufficient trajectory not to invent anything that fits that fund, we simply use those resources for something we know and want to do, and in each One of the areas we have done so. We are awarded one to develop a technical improvement of a movie theater by the end of the year, we are awarded a catalog for a record label, in which I have worked all my life, spread music, then they are natural consequences.
Why is the seal called La Sangre?
It has a symbolism linked to the root, to the identity, in this case to the familiar and genealogical. The personal myth is that my grandfather was a blacksmith, smith, metal smelter, he was brought from Concepción to the railway station for his capacity as an iron smelter, and the first thing he did when he arrived was a piano, someone who was illiterate did that, then for me that is my myth to build a reality linked to music and art. A process of value with the culture in my family is something genetic. In fact, the only book I have thought of publishing of everything I have written is a poetic semblance that is called Family Album, which starts with my grandfather and was illustrated by Paulo Meyer.
Your cultural management is organic, successful and spontaneous.
When we hear people saying that there are no spaces, we are inventing a space all the time, generating a place of meeting, reflection, dissemination and promotion, where you can experience art, from creation itself, here rehearse theater companies and bands During the whole day, there is a bustling activity, at night it is a bar, but during the day it is a hotbed of activity.
Do you meet people who say there is no cultural activity?
That is a very Chilean discourse, a country discourse, perhaps some things are idealized, because this is not a traditional space, but satisfactorily fulfills all the purposes of a cultural center.
It's a cultural mall.
Hahaha. It has the rarity that inside there is a bar, people tell you the dance museum, here we managed to cross two important issues, generate spaces of expression and at the same time entertainment, relaxation and informal playful encounter.
With the years of experience you have, has your cultural concept changed?
Somehow I have been an agent of cultural change, in the sense that I am from this neighborhood, I was born here in the historic center of Concepción, its buildings are from the late nineteenth and early twentieth centuries, in constant transformation due to earthquakes, In 2010, nearly ten thousand houses fell. It's a middle class and low middle class, but as a child we all had concerns, clubs were grown, we got together and made movies, we listened and exchanged music, my dad was a collector, so mine is an extension of a familiar, social, in the context of a community cultural outlook and I have always transferred that meaning in the things I do, sharing what I have.
What fact changed your look and inserted you into the cultural?
Everything, I was an athlete, I played in bands. But my life was always linked to literature, I wrote poetry since I was a child, but I did not want to do a literary career and although I keep writing until today, publishing in magazines, I never wanted to publish a book, that's what made me look for a way, there I entered a citizen cultural circle. But the foundational thing was always to transform the poem into something vital, with real life, looking for concrete experience of poetry and for that I had to build a poem house, then, when I was young I founded a group in the School of Architecture of the U. del Bío Bío , which was called Casa Poema, we got together to wander and write automatic poetry, a mixture between literary and creative workshop. In tune with that, Casa de Salud is a state of denouement, added to everything we are doing outside, such as the Museum of Music of Bío Bío, a project of the National Cinematheque; we also work on a community library project; in a center of artistic experimentation and the conservation of cinematographic heritage. All extension work. We have transcended this building, we are working on cultural interventions in the city, some of patrimonial character such as the Music Museum, which involves collections, regional fonoteca, repository with a physical and virtual archive, interactive rooms for early experiences in children.
Much of what you mention corresponds to the State to execute, however you are doing it, do they consult you, invite you to participate because you have the experience?
All my life I have been invited but I never wanted to go. I have concrete experience on the subject, but since I do not get on very well with them, I am only now polishing my social edge, because I do not dance to anyone, sometimes I get angry when I have to share with officials, because everyone they pay them salaries and they spend the money doing nothing and when you ask them if there are resources to do something, they always say no, because they spent it on themselves.
Do you accept that you have the movie clearer than them?
I've been rebellious, I do not know if I have the film so clear, I'm just going down a road doing the things I want, I've been ironic but finally I realized that there is a package of resources and usable protocols, that if not used by someone with healthy intensions, that money will end up in people who invents anything to get the money and not to make a contribution.
In the cultural field, is it not progressed by this bureaucracy?
More than bureaucracy is a lack of purpose, the drawback of designing cultural policies on a, b, c and d, generating lines of funds for that, does not have the intention of an observatory, instead of spending all that money, they could be observing what people are generating real support networks and doing things, because just as we are in all this, there are a lot of other agents doing live culture, people who are creating and developing a work of community management and participation, with intentions and respect for the heritage.
Is this a love to Concepcion, to its musicians, for being the so-called cradle of rock?
I am a detractor of the slogan of the Cradle of rock, when they coined that motto, possibly in Santiago, corresponded when there were five or six bands here, The Three, Clandestine Emotions, Santos Dumont, The Machuca, The Bunkers, then the De Saloon, That was the cradle of rock, what are we talking about? It's silly, there were no bands, there were never places to play, now it's full, from 2010 onwards there was an explosion, here 800 bands of Conception that are at a high level, I am not chauvinist with Concepción, I work here because I was born here and here I am, we are also the place that moves most international artists in Chile, because we have generated concrete actions to do it, we created art corridors, Cartagena- Concepción, Cordova, Buenos Aires, Sao Paulo, Recife, La Paz, Cochabamba, all with Concepción, there is reciprocal mobility, with this we have discovered other managers and cultural actors in those cities, I traveled or, I move with bands, I go out, I broadcast albums, visual works.
Where is this promotion going?
I bring and promote artists with whom I work and at the same time I bring people to nurture diversity, with a sense of learning of the different styles. At the time that the Cradle of rock was coined, those six bands were in a limited style, at this moment there is an infinite range, for example the line of our label is based on territoriality, but on the other hand it has the characteristic of being open to different styles, to other very new ones of music: trip folk, electronic, punk, folklore, psychedelia, learned music, jazz.
Is that creative sense in itself a state of happiness for you?
Chuta my happiness, it is a word that I do not even occupy, I am a person in peace ...
Why do not you use the word happiness?
Because happiness is never, it is a state to be reached, it seems to me that happiness is super displaced from oneself.
Is it for education and training that we have to deconstruct?
Without a doubt, yes. The word happiness as well as the word love, has seven billion definitions and they are all exact and each one is going to defend theirs, for me happiness is a means more than an end, I believe that I can do what I do and achieve concrete because I'm happy. How do I define being happy ?, being myself, finding a meaning to what I am or giving it a meaning.
On deconstructing certain things that we have deformed, does your work have to do with resignifying?
Of course, I think so. But about happiness I would like to convey in a super-direct message, first of all of value, that is, at what point am I able to assume myself as happy or feel that I can be happy or make someone happy with what I do? first of all I give it a value and that value I expose it and I have someone else participate in that value. That gives me an honest feeling of peace and participation, of feeling part of a community, that my purpose, with all the personal that it could be, resonates in the world and removes the banal sense of vanity from life itself.
That's true, because the production and cultural management have differences and many subtleties, but behind who produces or gestates the same there is an artistic interest, within your desire is your personal artistic development?
My personal, yes of course, I work on that, I write, I am a composer, I make songs and music and within that I perform perfectly and my needs are filled without making a career, except that of producer and manager, rather than artist.
But why? Will the desire be more focused on management?
Maybe I lacked a hair of vanity to be an artist. I could be without problems twenty years without playing a guitar and then I played again, in fact I am doing more race today than all the ones I did before, because I have built a lot of platforms and it is much more accessible for me, but I have not dedicated myself either to do that, by far what I have at the end of the list of my priorities is to work with my projects, I see a lot of valuable work and I am dedicated to supporting that.
Would you say to those who are starting to believe the shot or wait a while?
I would say that you have to solve life by doing things, the first thing is to do, the song I invent while I sing, I tell myself, that is the way to solve my problem with creation. I learned not to be afraid and that is the talent that I recognize best in me, by not being afraid I can do and error transformed it into part of what I do, which is not a negative part, but part of the process.
That process or creative labyrinth, how is it born and what is creation for you?
The creation is poetry, if I had to delve, somehow the poetry or what that word designates, is that I can interpret what I truly feel when I am in this world, the perception in consciousness and integrity of being and being, to do in this world, that is for me poetry, if I could translate into human language that feeling that produces all this, that experience that is vital, unique, I translate it in this way, doing everything I do, that is for I am fundamental in my life and that is what I want to express, I am what I do, this is my reading of the universe, my reading of people, of things, of what exists, I order it and I share it.
Do you think that artists add value to society, in that sense you feel like a rockstar?
I feel more like a folkstar and that automatically includes the paradox of not being a star. I subscribe that we add value, it is a theme, the cause of this is a valorization, manifesting and expressing what one is, transferring it to others.
Is this happiness?
It's peace. Through the things I do, I achieve peace. I fill one of the verses of the Tao, which says that true peace is during the war, here there are actions, movement, dynamism, there is no stillness, nothing is static, in these scenarios I find peace.
Written by:
Jaime Piña from La Noche
PUBLISHED: Jul 1st 2019