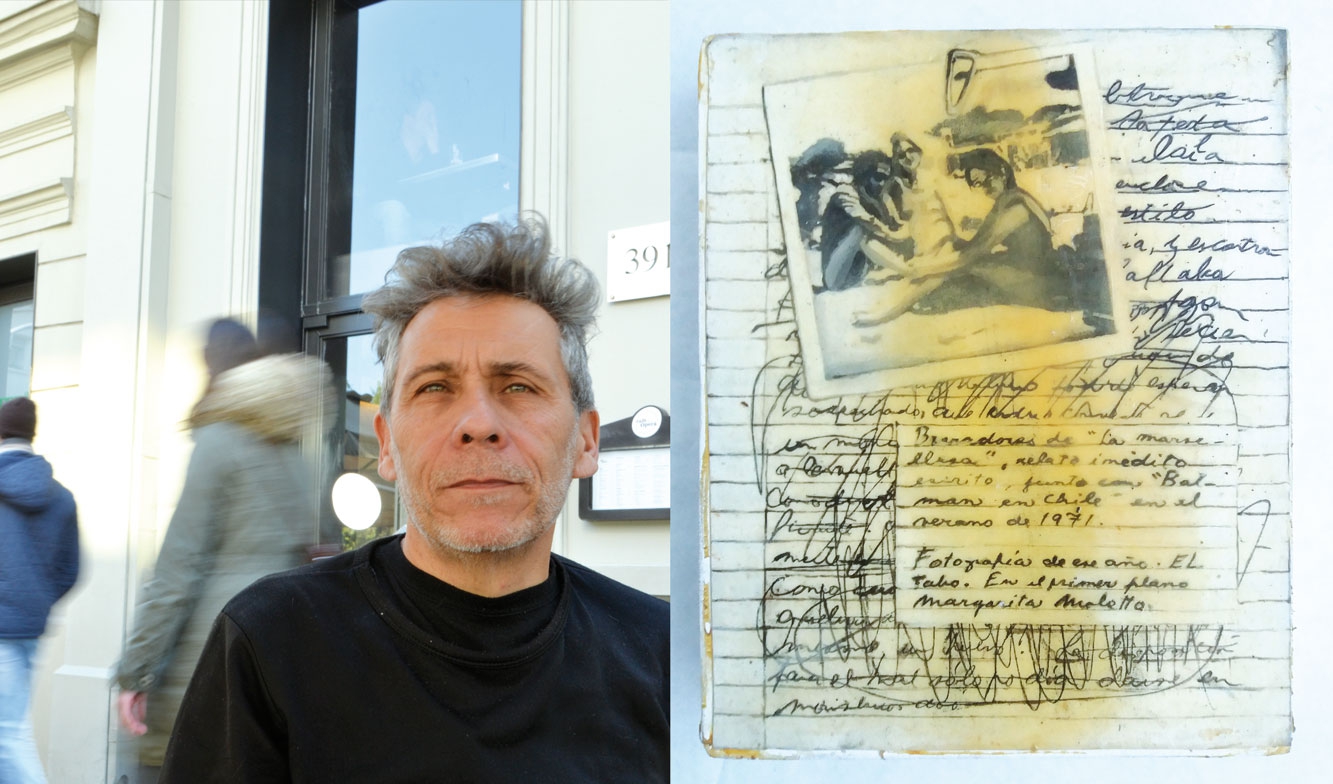 ART AND BOOKS - POET ENRIQUE LIHN PICTORIAL RESIGNIFICATION
Arts & Culture Celebrities Lifestyle Top 10
Mario Lagos, Visual Artist
In the coming days
Mario is going to present two volumes
of his 120-pages artist's book, on Enrique Lihn's work, on September 13 at the Centex of Valparaíso. Later that at the Literature Faculty of the Universidad Católica by the end of September. There will be a round table conversation along the curator, theorist and director of the U.C. archive Alejandra Wolff; Lihn's personel friend and National Literature Prize Manuel Silva Acevedo; Zenaida Suárez, from Los Andes University and the editor Gerardo Quezada.
Mario finished his degree at the
Universidad Católica
after ten years travelling around Europe during the first half of the 80s, acquiring experience and knowledge in cities such as Barcelona, Frankfurt and Berlin, a cycle he has completed since 1979, when he began his career in the Usach. Once he returned by the 90s, he began to work on artist books.
The exhibition includes the original works on a showcase, a 17-minute video that visually runs through its pages, where Lihn's work is intermingled, based on his concept about the photocopy distribution as well as
Mario's own paintings, he says:
"Lihn all expanded his literary work using photocopies in the '80s. Therefore I use photocopies, I enlarge it and then I intervene with paint, mixing medias that assemble textures, adding pieces of nails, assemblages and objects. So, my work brings Robert Rauschenberg reminiscences in this case and the Italian povera art-all handmade".
Mario is very close to Lihn
since his own children are the poet's grandchildren in fact, hi takes fragments of pictures from the family album, from the years 75 up to 88, almost the end in the poet's life and Mario resignifies them, he tells: "The interesting thing about the numerous photos is that they are taken in another dimension. I mix my own photographic archives with his'. Photos of Villa Grimaldi of the year 75, some others about poet
Gonzalo Rojas
reception in Lihn's house in 1975 and so. There are some letters since 1971 that I painted wich belonged to Batman in Chile, a novel launched by the time of the UP –full polarity north south–. I had direct access to that file because I worked to maintain it and I kept some things that his daughter Andrea gave me. Based on that material, photos, novels, pieces of poems and articles, I work".
Written by:
Jaime Piña - Revista La Noche
PUBLISHED: Sep 6th 2019