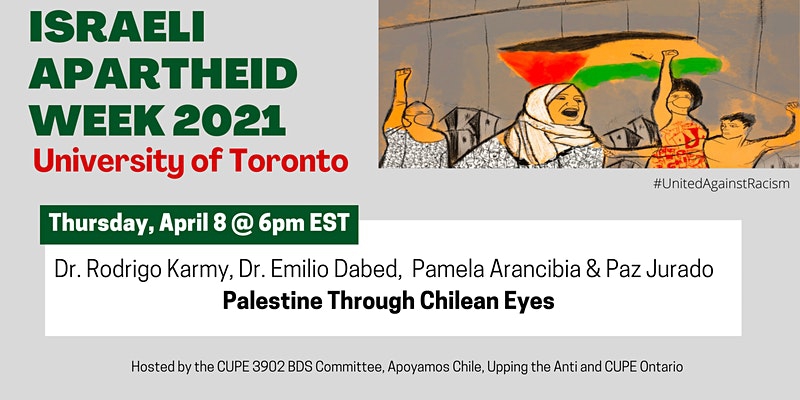 Palestine Through Chilean Eyes: Panel Event - Israeli Apartheid Week @ UofT
By CUPE 3902 BDS Committee
Thu Apr 8th 2021 at 19:00
---
Chile
Chile
https://www.myguidechile.com/events/palestine-through-chilean-eyes-panel-event-israeli-apartheid-week-uoft
VISIT WEBSITE
Event Details
Best events in Chile.

Online event.

Palestine Through Chilean Eyes - featuring Dr. Rodrigo Karmy, Dr. Emilio Dabed, Pamela Arancibia & Paz Jurado

Thursday, April 8th @ 6 pm EST via Facebook Live

Arabic and Spanish interpretation available April 12
Contact: 3902bdspac@gmail.com

Hosted by the Canadian Union of Public Employees (CUPE) Local 3902 BDS Committee, Apoyamos Chile, Upping the Anti & CUPE Ontario.

Palestine Through Chilean Eyes is the second event of IAW 2021 at UofT. It traces the intimate connections and histories of the shared struggle between Chile and Palestine, as well as the links between apartheid Israel and the Chilean state's campaign of terror against the current popular uprising. Israel exports its weapons that are "field-tested" on Palestinian bodies and society to repressive regimes around the world, including Chile. The Chilean state has deployed these to repress indigenous and social movements, including the recent estallido social (social explosion) taking place since October 2019 against neoliberal privatization and social injustice. A stark example is an adoption by the Chile of Israel's shoot to maim policy of targeting specific body parts such as the eyes or knees as part of a campaign to debilitate movements and populations. Chile, in turn, has been spreading Israel's tactics and arsenal of repression further across the region, including through military training and missions in locales across Central America and the Caribbean like Haiti and Honduras. As the Chilean people mobilize to elect members to the Constituent Assembly to replace Pinochet's constitution in April 2021 amidst the uprising, and the Palestinian people prepare for local elections in May 2021 amidst the ongoing resistance, this panel hones in on the Chile-Palestine case to examine the global circuits of imperialist collaboration and anti-imperialist solidarity that bring struggles together across the Global South.