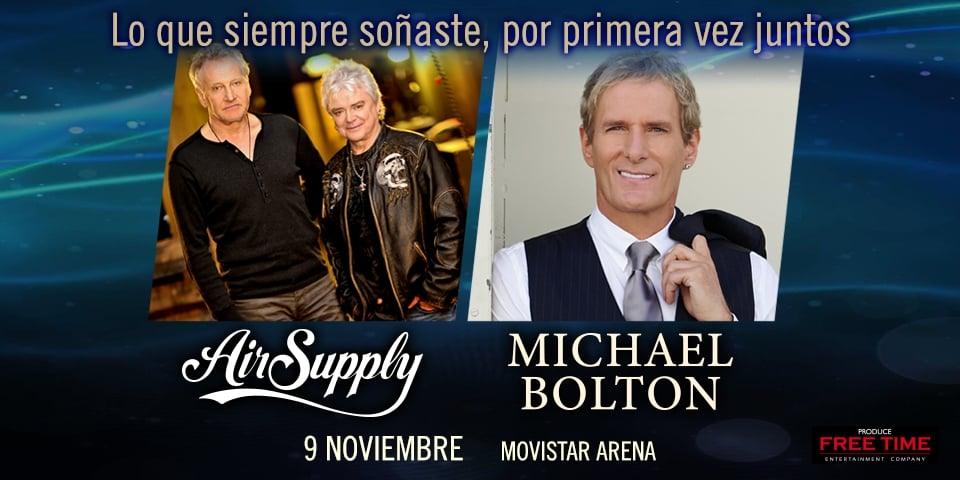 Michael Bolton & Air Supply
For the first time together
Sat Nov 9th 2019
---
Acceso Parque O'Higgins

,

Entradas por Av. Tupper y Av. Viel.

,

Region Metropolitana, Santiago

,

Chile
https://www.myguidechile.com/events/michael-bolton-air-supply
---
Movistar Arena
MAKE ENQUIRY
BOOK NOW
Event Details
Events in Chile

Michael Bolton

Winner of multiple Grammy awards, composer and social activist. Michael has sold more than 60 million records worldwide. Bolton remains committed to humanitarian causes, especially through its Michael Bolton Children's Foundation, for 22 years.
In recognition of his artistic achievements, Michael has won 2 Grammy Awards for Best Male Pop Vocal Performance (he has been nominated four times in the same category), plus 6 American Music Awards, and a star in the Hollywood Walk of Fame. Also, his name is in the Hall of Fame of the Composers.

Bolton has written with some of the greatest and diverse musical talents of our time, including Bob Dylan, Paul Stanley, Lady Gaga, Diane Warren, Desmond Child, David Foster, Walter Afanasieff, and 'Mutt' Lange. Bolton's songs have been recorded by the most important singers in the world, such as Marc Anthony, Barbra Streisand, Cher, Kanye West and Jay Z., among others.

AIR SUPPLY

One of the most important bands of all time, made up of the Englishman Graham Russell and the Australian Russell Hitchcock, returns to Chile.

Among the achievements of Air Supply are: Creators of 7 number 1 in the world rankings, with songs such as: Lost in Love, Here I Am, All out of The Love, Two Less Lonely People in The World, Making Love of Nothing at All, Sweet Dreams, Just As I Am, The One That Your Love, Every woman in the world and Good Bye. His albums 'Lost in Love,' 'The One That You Love,' 'Now and Forever' and 'The Greatest Hits,' sold more than 20 million copies. 'Lost in Love' was named song of the year in 1980 at the Grammy Awards.

In the decade of the 80's they manage to place numerous subjects in the Billboard lists. Since then they have remained present not only in the taste of the public but also in criticism, which has remained until today, even in 2008 it was named as the number 83 of the best musicals of all time in the Billboard Hot 100's , award based on the performance of the popularity charts in the United States, which is a reflection of its success which has achieved a permanence in the taste of the public over the last decades.