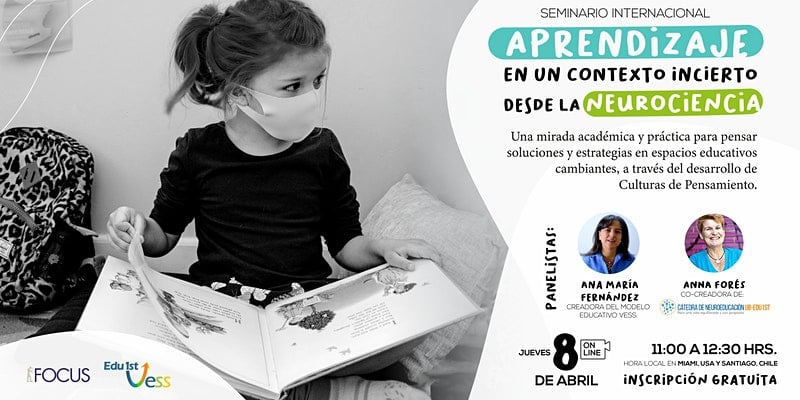 Learning in an uncertain context from neuroscience seminar
By Edu1st
Thu Apr 8th 2021 at 12:00 until 13:30
---
Chile
Chile
https://www.myguidechile.com/events/learning-in-an-uncertain-context-from-neuroscience-seminar
VISIT WEBSITE
Event Details
Best events in Chile.
Online event.
An academic and practical look to think solutions and strategies in changing educational spaces, through the development of Cultures of Thought. This seminar will be the starting point for educational leaders, specialists, and educators who are creating scenarios that awaken curiosity and love of learning; from a flexible perspective, based on innovation and the power to find solutions in changing environments thanks to the strategies proposed by neuroeducation.
The experiences and trends arising from the context of the pandemic will also be taken into account.
Panelists:
Ana María Fernández, Creator of the VESS Educational Model
Anna Forés, Co-creator of the UB-Edu1st Neuroeducation Chair
Thursday, April 8, 2021
Free online registration
Local time in Miami, USA and Santiago, Chile: 11:00 a.m. - 12:30 p.m.
Time Buenos Aires, Argentina: 12:00 p.m. - 1:30 p.m.
Time Bogotá, Colombia, Quito Ecuador and CDMX: 10:00 a.m. - 11:30 a.m.
Time Madrid, Spain: 5:00 p.m. - 6:30 pm.