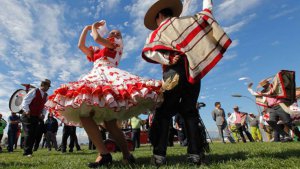 Fiestas Patrias Celebrations
Celebration of National Days
Tue Sep 17th 2019 to Sun Sep 22nd 2019 at 12:00 until 06:00
---
Chile
,

In all the Country

Chile
https://www.myguidechile.com/events/fiestas-patrias-celebrations
BOOK NOW
Event Details
September brings spring to
Chile
and with it the days of celebration of
Chile's independence from Spain
. Technically the independence
celebration is September 18
, also known as the Dieciocho—which means 18 in Spanish. However, Chileans don't just celebrate on one day— Fiestas Patrias festivities usually begin one week before September 18th.
The country celebrates Fiestas Patrias with parades, festivities, food, music, and beverages.
Much of the drinking, music, and dancing occurs in the ramadas, open-air 'buildings' with a dance floor under a thatched roof, or one made traditionally with branches, as in traditional shelters. Refreshment stands, fondas, offer a variety of national food favorites.
The History of Fiestas Patrias
From the northern deserts to the southern tip of Chile,
Chileans party
in remembrance of the day in 1810 that the Chilean criollo leaders proclaimed limited self-government during the Napoleonic Wars on the Iberian Peninsula.
Actual independence came in April 1818, but the Dieciocho is a treasured and proud
celebration for Chileans
. The scents of asados, or open pit barbecues, empanadasbaking, and other favorite national dishes fill the air. Music, particularly the patriotic sounds of the national anthem and other favorites, is everywhere. Cueca competitions are a ritual, as much as the dance itself.
Wine, and chicha flow. Medialunas, the semi-circular arenas used in the rodeos, fill with spectators cheering the huasos who demonstrate their skill. Folkloric demonstrations of dance, costume, and legends bring in the crowds.
I de Tarapacá
II de Antofagasta
III de Atacama
IV de Coquimbo
V de Valparaíso
VI del Libertador General Bernardo O'Higgins
VII del Maule
VIII de Concepción
IX de la Araucanía
X de Los Lagos
XI de Aysén del General Carlos Ibañez del Campo
XII de Magallanes y de la Antártica Chilena
Metropolitana de Santiago
XIV de Los Ríos
XV de Arica y Parinacota
XVI del Ñuble