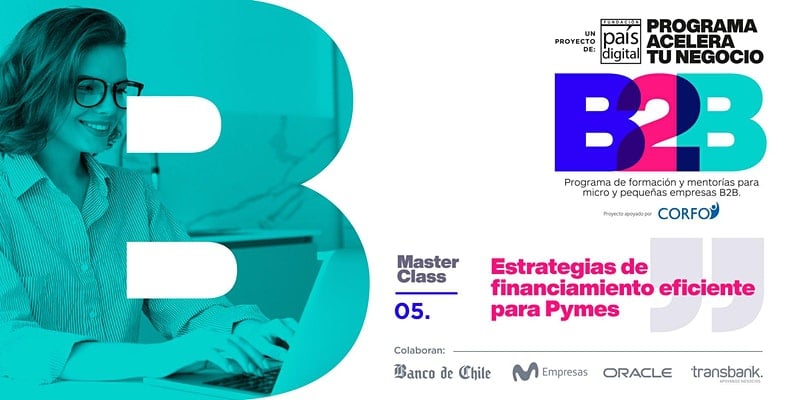 Accelerate Your B2B Business: Efficient Financing Strategies for SMEs
By Fundación País Digital
Tue May 25th 2021
---
Chile
Chile
https://www.myguidechile.com/events/accelerate-your-b2b-business-efficient-financing-strategies-for-smes
VISIT WEBSITE
Event Details
Best events in Chile
Online event
---

This master class is part of the Accelerate your B2B Business program: Training and mentoring program for micro and small B2B companies of Fundación País Digital with the support of Corfo.
This program includes 5 free master classes for all audiences and B2B MIPEs can apply for a mentoring program, where a volunteer mentor from the program will advise the company on the contents of these 5 classes and will work together with the company to develop a plan work so that the MIPE can implement.
To apply for the mentoring program, complete the following Application Form
ABOUT THE CLASS
Rapporteur: Winnie Darlic, Deputy Manager of Product and SME Segment at Banco de Chile


Description:
- We will review which are the most suitable financial products for SMEs according to their destination and deadlines.
- We will explain the advantages of financing with State Guarantees, in addition to presenting the new Fogape Reactivation product.
- Main tips when requesting financing.